Becoming Catholic
OCIA (Formally RCIA)
The Order of Christian Initiation of Adults (OCIA) will replace the Rite of Christian Initiation of Adults (RCIA), which has been more popularly known over the past two generations. OCIA is a fantastic program for people and families who want to convert to Catholicism. Many people lack the sacraments of initiation, and this method enables individuals who have already been baptized or who require baptism to formally join the Church. Due to the fact that we also approach the Catholic Faith as lifelong students, our class at St. Jude is particularly unique. One could spend their entire lives studying our beliefs and still not know everything. In light of this, we provide ongoing education and appreciation for anybody who wishes to enroll in our seminars, even if they have received all of their sacraments. Many people have praised the excellent teaching style of our instructors and discovered a wealth of fascinating information about Catholicism. You may find our flyer below, and I strongly encourage you to sign up right away for this fantastic event.
Information
Please note that each of our Sunday sessions will begin at 9:00AM, except for that on October 16, when we'll share an explanatory tour of St. Jude's place of worship, which will be at 3:00PM.   We will be sure to forward you the time of the Rite of Election scheduled for St. Peter Cathedral on the first Sunday of Lent, February 26, as soon as the Bishop's office notifies us of this.   (It will likely be around 3:00PM.)
Please anticipate from us in the coming months occasional messages containing short readings or other materials that we hope will contribute to a kind of shared experience holding our little cohort together.  We will be praying for each of you throughout this OCIA process and hope you'll keep us in your prayers, as well.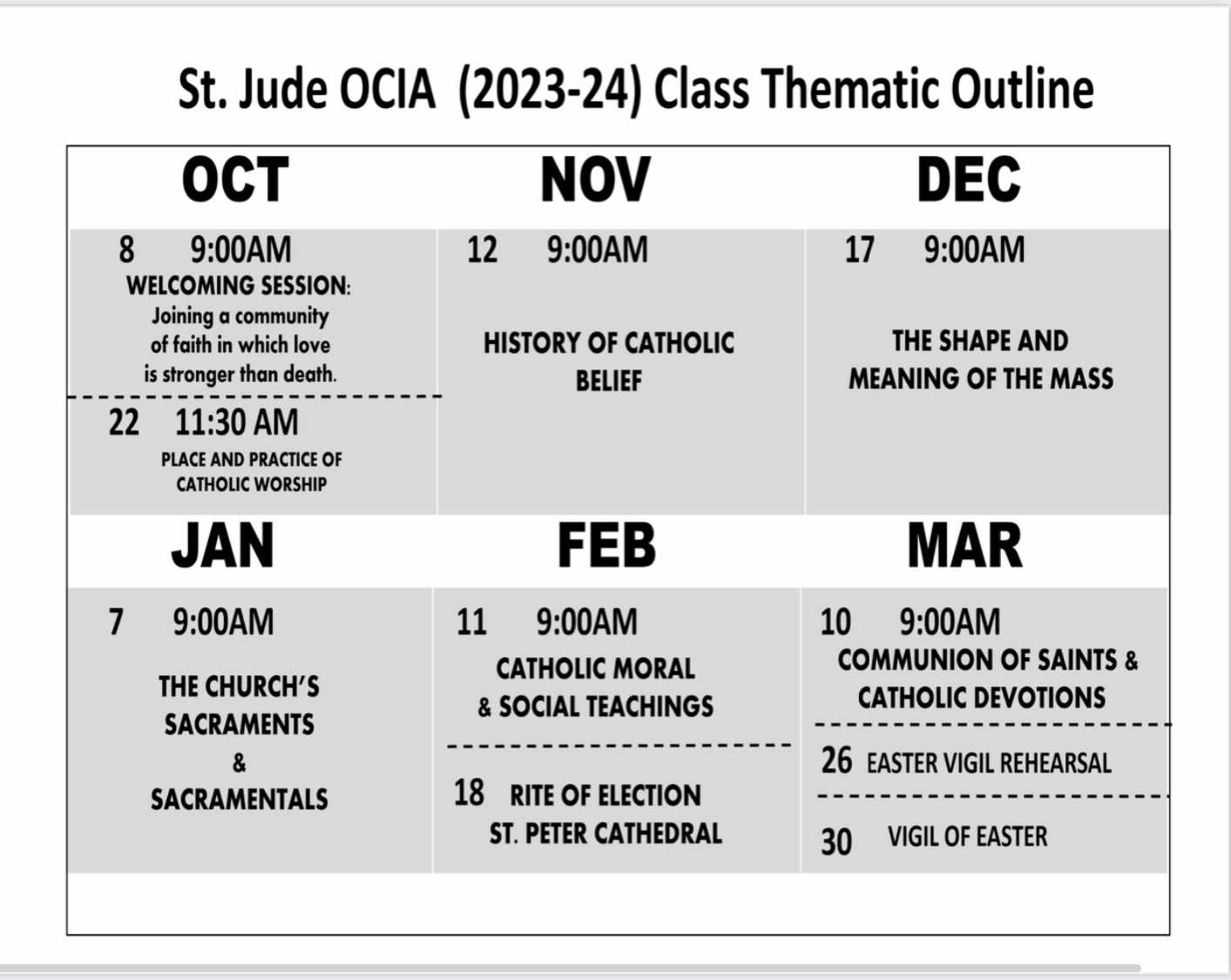 Church Office
Saint Jude the Apostle Parish
2801 W. 6th St.
Erie, PA 16505
EMAIL US
office@saintjude.church
OUR MISSION
Revealing Jesus to one another and the world.
Inspired by the teaching and example of Jesus Christ, and in communion with the diocesan and universal
church, we the members of St. Jude the Apostle Parish are called to give witness by our commitment to the
ministries of service, word and worship. We strive to be a community that welcomes all, and that challenges
our members to grow in the likeness of Jesus Christ as we work with Him to continue his mission.